Amazon Prime vs. Walmart Plus a Comparison
Who doesn't like the idea of free shipping, next day delivery, 5% cash back, and the ability to choose thousands of premium goods all in one place? Here we compare Amazon Prime vs Walmart Plus.
Wealth Meta
https://www.wealthmeta.com/
Michael
/users/03bd0daec1f6168d93235c291c09c853/michael
March 9, 2022, 7:27 p.m.
March 9, 2022, 4 p.m.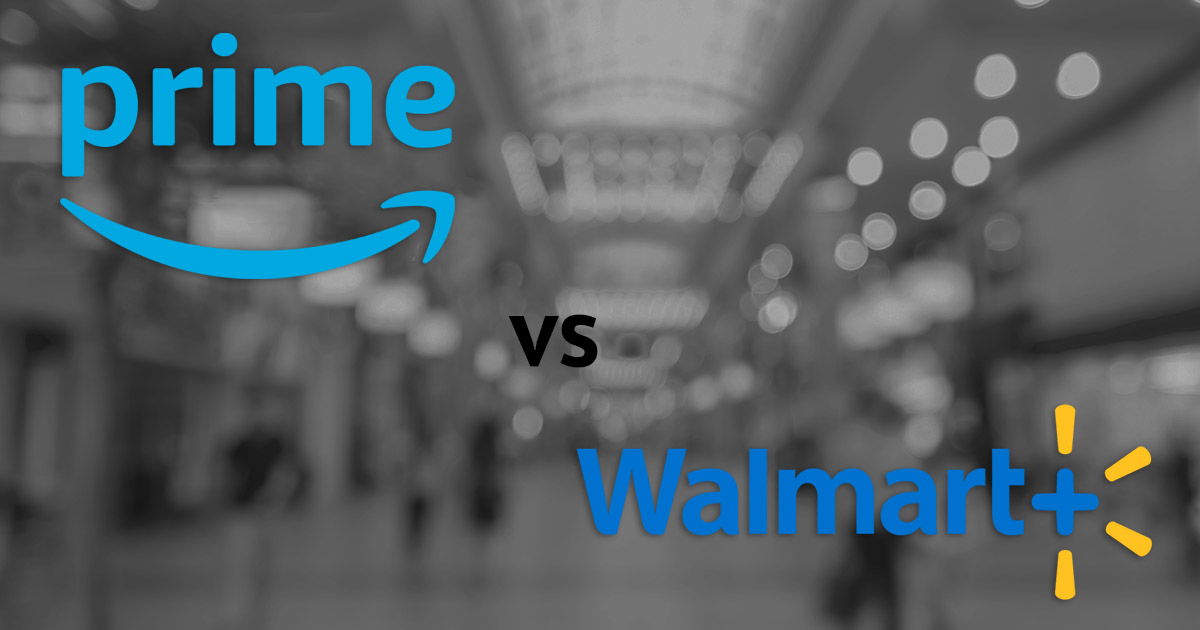 Who doesn't like the idea of free shipping, next day delivery, 5% cash back, and the ability to choose thousands of premium goods all in one place? 
This is precisely what Amazon Prime aims to provide to its customers. The company offers products at low prices, making it the first choice for many. In addition, since the eCommerce giant introduced its premium service, it has further boosted its popularity worldwide. With 200 million members all over the globe, the company has been dominating the market unrivaled. 
However, with the introduction of Walmart Plus in September 2020, the scenario changed. The grocery giant aims at competing with Amazon given it deals with similar services like that of Amazon Prime. 
Now, as consumers are spoilt for choices, it also adds to the confusion, which is a better deal? Here is a head-to-head comparison to help you make the call. 
 
Amazon Prime vs. Walmart Plus
Both Amazon Prime and Walmart Plus memberships come in the same price range. They also have some similar products and services. So, this table below will give you a better idea about what these memberships do and do not offer. 
| | | |
| --- | --- | --- |
| Factors  | Amazon Prime  | Walmart Plus |
| Free Trial Period | 30 days  | 15 days  |
| Monthly pricing  | $14.99 ($8.99 for only Prime Video) | $12.95  |
| Annual pricing  | $139  | $98  |
| Products available for same-day delivery  | 3 million | 160,000 |
| Student discount  | Available | Unavailable  |
| Free same-day delivery | Available on minimum order of $35 | Available on minimum order of $35 |
| Free One-Day or Two-Day Delivery | Any order size | Any order size |
| Free grocery delivery | Available on minimum order of $35 | Available on minimum order of $35 |
| Mobile scan & go | Not available  | |
| Clothing perks | Available with Prime Wardrobe  | Not available  |
| Fuel discounts  | Does not offer  | |
| Music and video streaming services | Available | Unavailable  |
| Rewards Points | 5% cash back if you use their Amazon Visa card | 5% cash back with $0 annual fee that includes pickup and delivery  |
Amazon is a one-stop shop for online services and has around 147 million members in the USA alone. Although competition from Walmart is steep, Amazon has introduced a plethora of services to maintain its supremacy. Almost 38% of all online retail sales in the USA are from Amazon alone. 
However, the Whole Foods Market is available in just 500 locations in the USA. So, to avail of this service, you need to be near any urban centers.
On the other hand, Walmart Plus is available in more than 5000 locations in the USA. Among these, over 3500 are super centers that deliver groceries. 
 
Prominent Available Items
Amazon Prime
Amazon is at the top of its game when it comes to available items. It has an inventory of three million products which is unparalleled. Prime members also get benefits, like Amazon Fresh, where they can search for items near their locations. 
This includes regular household and pantry goods such as fresh vegetables, meat, and more. By spending a minimum of $35, you can get delivery within two hours without any delivery charges.
Some other perks include:
Free no-rush shipping
Free same-day delivery
Free two-day delivery
Whole food market deals 
Free streaming on Prime Video, Amazon Music Prime, and Amazon Music Unlimited
Free books on Prime Reading via Amazon Books 
Amazon Photos for unlimited photo storage
Free games with Amazon Prime Gaming
Exclusive shopping benefits on Woot, Zappos, and Shopbop 
 
Walmart Plus
Sure, compared to Amazon Prime, Walmart Plus has a limited inventory. However, features like unlimited free delivery and discounts on fuel from gas stations are hard to ignore. On top of that, they offer its 'Plus' members early access to hot products such as:
Xbox Series X and PS5 restock events
Apple Airpods with Charging Case
Coway Airmega 200m Air Purifier
Modway Articulate Office Chair
Samsung 58-Inch Class 4K Ultra HD Smart TV
Better Homes & Gardens Ravenbrooke 4-Piece Patio Furniture Conversation Set
Blackstone Adventure-Ready 2-burner Outdoor Griddle
 
Benefits of Amazon Prime
There are many perks of an Amazon Prime membership that made it a pioneer in the field for a long time. The huge inventory contains just about everything from groceries to cleaners to personal care. 
However, this is not its only perk. Here are a few other exciting things that you can avail:
1) Huge consumer base
Amazon has an unmatched consumer base of customers, seller customers, and developer customers. This allows the retail giant to provide many services at a low price. Its loyalty program, Amazon Prime, can deliver any item at the shortest timespan and lowest price. 
 
2) Discounts
As mentioned earlier, Amazon also offers special discounts and reduced shipping prices worldwide. It also offers free same-day delivery and special deals on membership to college students. Even those receiving government assistance get membership discounts. 
 
3) The added convenience of entertainment services
Amazon has truly set itself apart with its online programming and music streaming services. Prime members get access to thousands of media content via Prime Video. Viewers can watch all the old classics, along with some fresh new content. In a way, Amazon intends to challenge Netflix with content, like The Boys and the upcoming $450 million Lord of the Rings series. 
The membership also includes access to Amazon Music, a competitor of Apple Music and Spotify. Other than that, there is Amazon Prime Gaming for exclusive gaming content. 
 
4) The famous 'Prime Day' popularity
Prime-Day is Amazon's masterstroke against its competitors. The two-day annual shopping event is exclusively available to Prime members. Moreover, you get huge deals and discounts in almost every product category. 
 
Benefits of Walmart Plus
If you are not a Prime member yet, choosing Walmart Plus is an advantage since it offers similar perks at a lesser cost. Other than that, there are some other prominent benefits for the members which include: 
1) Promising inventory of consumer goods
Although not as huge as Amazon's, Walmart still has an impressive inventory. It provides consumer goods in a variety of categories. Moreover, 'Plus' members get early access to exclusive appliances, gaming consoles, and electronics. 
 
2) Gas station benefits
As mentioned earlier, fuel discounts are one of the biggest perks of Walmart Plus. Members can save up to five cents per gallon at around 2000 selected gas stations.
This includes popular choices, like Murphy Express, Murphy USA, and Walmart gas stations. Additionally, Sam's Club gas stations are too expected to join the club. 
 
3) Low yearly cost in comparison
Overall, Walmart Plus offers many of the same products and deliveries and is cheaper to subscribe to. However, there are no special discounts from students at Walmart. 
 
4) Fluent combination with offline Walmart outlets
Walmart Plus also lets consumers shop from offline stores and self-checkouts, along with online groceries. The 'Mobile Scan and Go' option is a unique feature that lets customers pay using a self-checkout register. 
 
Final words
Amazon Prime is a good choice if you want to avail yourself of fast shipping and member-only discounts. Additionally, you get multiple streaming features for unlimited entertainment. You also get up to 5% cashback via Amazon Prime Rewards Visa Signature Card. 
On the other hand, the loyal followers of Walmart also get a significant number of deals from Walmart Plus membership. It also offers 5% cashback with the Capital One Walmart Rewards Card and 2% cashback at any Walmart gas station and store. 
In the end, it all comes down to the preference of the individual user. 
Depending on which features you find most suitable, you can pick a membership from either one.
---
---