The Consumer Financial Protection Bureau Complaint System
Do you have a bone to pick with a bank or financial institution? If so, you might be interested in learning about and using the Consumer Financial Protection Bureau's complaint system because it could help you pick your bone.
Wealth Meta
https://www.wealthmeta.com/
Steven Gilbert
/users/f08d563bd6f3d3e3ed92aeae78c9970e/steven-gilbert
April 30, 2018, 9:48 p.m.
May 30, 2017, 3:54 p.m.
Do you have a bone to pick with a bank or financial institution? If so, you might be interested in learning about and using the Consumer Financial Protection Bureau's complaint system because it could help you pick your bone.
First off, what is the Consumer Financial Protection Bureau (CFPB)?

Everyone knows the financial services industry has a history of tricking and cheating consumers. It's as if banks and financial institutions have been infected with a virus that makes the interests of the financial services industry incompatible with that of yours, the individual consumer. And in 2008 this virus caused such a fever that the system broke down and left in its sickness the worst financial recession since the Great Depression.
And so you, as in voters, responded by asking the government to create an entity that would put a microscope up to this virus in the hopes that we can contain it and prevent it from spreading. And as such, the U.S. government launched what's called the Consumer Financial Protection Bureau (CFPB). From the CFPB website:
The CFPB was created to provide a single point of accountability for enforcing federal consumer financial laws and protecting consumers in the financial marketplace. Before, that responsibility was divided among several agencies. Today, it's our primary focus.
Our work includes:
Rooting out unfair, deceptive, or abusive acts or practices by writing rules, supervising companies, and enforcing the law
Enforcing laws that outlaw discrimination in consumer finance
Taking consumer complaints
Enhancing financial education
Researching the consumer experience of using financial products
Monitoring financial markets for new risks to consumers
Which means the CFPB works to stop the financial services virus from wreaking havoc on your financial life. And one of the ways the CFPB tries to accomplish this is by taking consumer complaints via an easy-to-use complaint system.
How does the CFPB complaint system work?
Imagine you were a Wells Fargo customer and Wells Fargo fraudulently issued you a credit card you didn't ask for, which in fact Wells Fargo was recently fined $185 million for doing. And you were financially harmed by this unwanted credit card, perhaps because you had to pay mysterious fees or because your credit score was affected.
If this, or anything remotely similar happens to you, I would say you qualify under "you have a bone to pick with your bank." A big bone.
Your first instinct to resolve the fraudulently-issued credit card problem might be to call Wells Fargo. And maybe you find resolution through Wells Fargo customer support. Maybe not.
Either way, you have another outlet to air your grievances, which is through the CFPB complaint system.
To get started with your complaint, you go here. And the submission process happens over five steps, which I walk you through:
Step 1: What is this complaint about?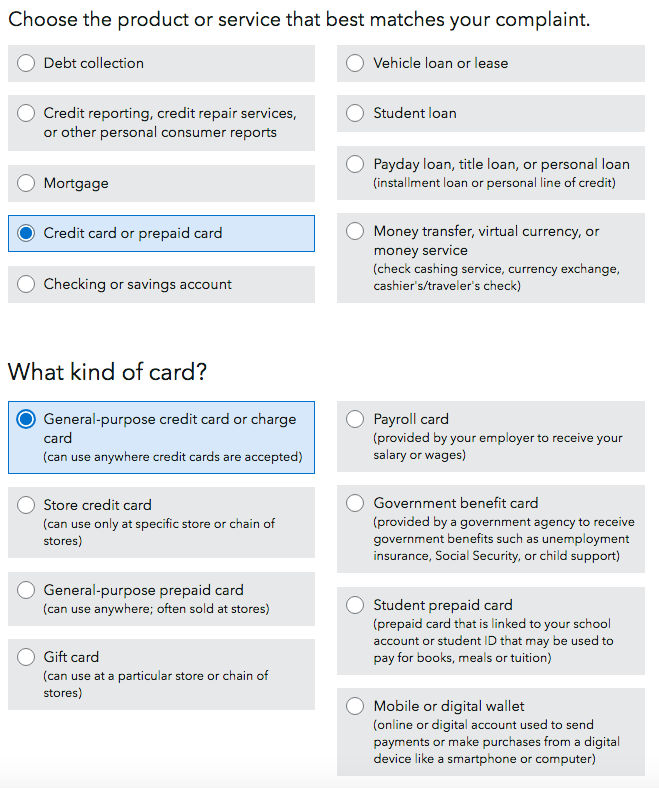 Step 2: What type of problem are you having?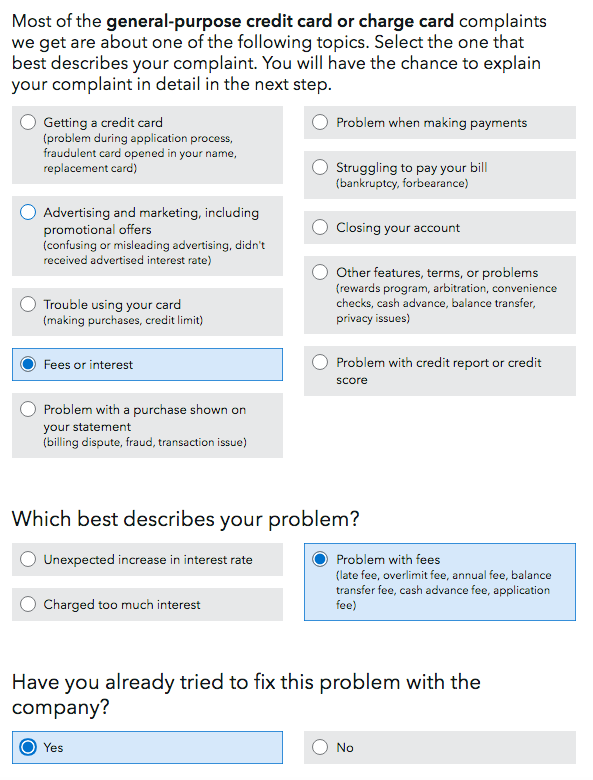 Step 3: What happened?
In Step 3, you describe in your own words what happened; you describe what you think would be a fair resolution to your issue; and you upload relevant documents. It's important to be specific and include dates, amounts, and actions that were taken by you or the company.
And in this step, you also have the option to make your complaint public and searchable in the Consumer Complaint Database. This is an open database where you can view, sort, filter, and analyze complaints submitted by other consumers. And it lets consumers "be heard by financial companies, get help with their own issues, and help others avoid similar ones. Every complaint provides insight into problems that people are experiencing, helping us [the CFPB] identify inappropriate practices and allowing us to stop them before they become major issues," according to the CFPB.
Step 4: What company is this complaint about?
You provide information on the company with whom you're picking the bone, e.g., Bank XYZ.
Step 5: Who are the people involved?

After completing the five steps, you review your responses. And if everything looks good to the best of your knowledge, you submit your complaint. You get a case number and wait while your submission travels through several destinations. And you can check the status of your complaint by logging into your CFPB account. Learn more about the complaint resolution process here.
The end result of the CFPB complaint system should be, at minimum, a formal response to your complaint from the company. There's no guarantee the company will resolve the problem to your liking, in which case, you might consider further action such as arbitration or perhaps even a lawsuit.
But even if you're not 100% satisfied with the result, if you allow your complaint to be publicly searchable in the CFPB database, you might help other consumers with a similar problem. Meaning the mere fact of submitting a valid complaint is a beneficial act because it contributes to a healthier financial marketplace.
In short, the CFPB empowers you and gives you a tool to hold financial companies' feet to the fire. And it gives you leverage which spurs the perpetrator to respond to you directly and publicly. This is something that didn't exist before the CFPB was created. Which means the CFPB is a huge win for you.
---
Notes:
---
---