How to Plan a Great Honeymoon on a Budget
Vacations can be very expensive, so planning your honeymoon can feel like a large additional expense. Read on to discover 16 tips on how to have a great getaway on a budget.
Wealth Meta
https://www.wealthmeta.com/
Ashley
/users/58c30226ba944d391b30690892339ec8/ashley
Aug. 15, 2020, 10:25 p.m.
Sept. 7, 2020, 3 p.m.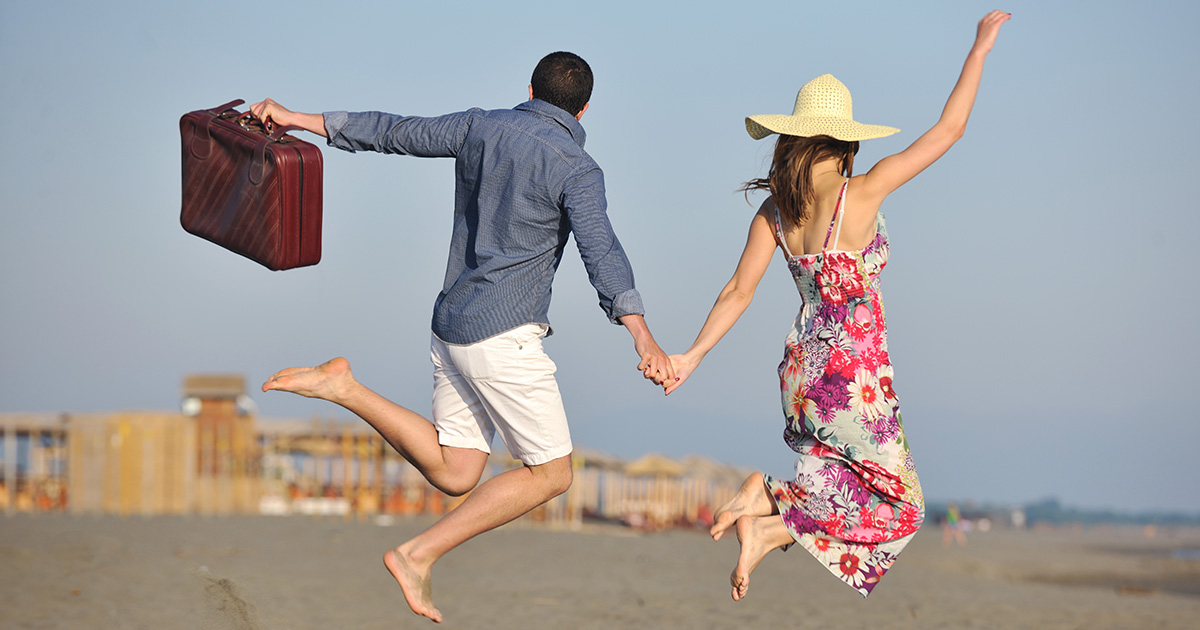 If you're in the middle of planning a wedding, you may be wondering how you can afford a honeymoon on top of all of your other expenses. Not only that, but it's hard to plan both a trip and an event at the same time.
Vacations can be very expensive, so planning your honeymoon can feel like a large additional expense. Read on to discover 16 tips on how to have a great getaway on a budget.
 
Prioritize
When you think about your honeymoon, what makes you the most excited? Is it the destination, or an activity that you can do there? As a couple, you should understand what's important to you before you start to plan so that you can create the honeymoon of your dreams.
If you have an idea of where you would like to go, you may want to make a shortlist of things that you 'must-do'. This could be three places you want to visit or three activities you want to do. Then, you can plan your budget and other activities around making sure that you can accomplish those three things. This will help you prevent being enticed into doing other expensive things while traveling because you will know what your priorities are in advance.
 
Make A Plan
As a couple, you should have a conversation around your expectations for your honeymoon. If one of you is expecting to stay in a high-end resort, for example, you might want to either find one that fits within your budget or work together to find a different type of lodging.
You should also make a budget for your honeymoon. By saving money in advance, you will be able to hold each other accountable for what you spend on your first trip as a married couple. When you prioritize what is important to you, you will understand what the largest expenses of your honeymoon will be and will be able to identify where you can eliminate or minimize expenses along the way.
 
Use a Travel Agent
While it may sound expensive to hire yet another professional around your wedding, travel agents can save you money. They often have access to discounted fares or hotel stays and can help you take advantage of the great package deals. Additionally, they can often get great rates on insurance and help to protect you against any flight delays or other mishaps.
Travel agents take good care of their clients because they can benefit from repeat customers. This is one of the reasons why they also dig to help you avoid any surprise expenses. For example, if you decide to go to Jamaica for your honeymoon, you will likely end up working with a travel agent who has sent many couples to Jamaica before. They will be able to give you ideas for things to do and ways to bundle those activities to save money. All in all, travel agents do typically charge a small flat fee or percentage of your overall booking but tend to save you a lot of time and money in the process.
 
Play the Honeymoon Card
People love to help people, and this is especially true when it comes to planning the vacation of a lifetime. When you're traveling for your honeymoon, don't be afraid to tell people that you're on a honeymoon. There are plenty of times when a front desk agent or flight attendant will help you make the trip even more memorable by giving you upgrades if they are available. This is especially true in the off-season when fewer people are staying in resorts and the honeymoon suites are more likely to be available.
 
Be Realistic
When budgeting amidst the chaos of planning a wedding and a honeymoon, it is important to be realistic. It is so easy to look at bridal magazines and picture yourself jetting off to a remote island and an overwater bungalow. However, if that isn't financially possible, you need to be honest with yourself rather than breaking the bank to make it a reality.
If you are working with a travel agent, they will likely be able to tell you what your daily costs will be in the locale that you choose. You may also want to look at blogs to understand how much you can expect to spend on food, activities, and transportation on your honeymoon. When planning your budget, don't be afraid to add in a few splurges.
 
Be Diligent About Costs
While you might build a few splurges into your honeymoon budget, not every moment is a justified 'treat yourself' moment just because you're on a honeymoon. If you are truly planning a budget honeymoon, you may want to choose a less expensive destination to ensure that your costs while traveling are kept to a minimum. This is also an opportunity to visit an all-inclusive resort so that there are no additional costs that sneak up on you while traveling.
 
Be Flexible
The best way to save a lot of money on flights and hotels is to be flexible. Flights and hotels tend to be the largest expenses associated with travel. Be aware that flights are typically more expensive on weekends and during the high season. High season will vary depending on your destination, so be sure to do plenty of research about your potential honeymoon hotspot.
You may also want to be flexible in the type of lodging you choose. For example, if you have your heart set on a resort on the water, it might be significantly cheaper to get an Airbnb apartment a few blocks away. Be mindful of all your options to understand which ones are best for your budget.
 
Watch Out for Hidden Fees
Nothing can ruin a good vacation vibe like an unexpected bill. While a travel agent or travel consultant will be able to advise you on fees that their previous clients have encountered. If you are planning your vacation on your own, you might want to do an additional layer of due diligence. To do this, you can call or email hotels, airlines, and other vendors that you are working with.
Additionally, ensure that your bank knows that you are traveling and minimize the costs incurred by using your own money, especially if traveling abroad. Some banks will charge a flat rate each time a card is used abroad, and others will add a percentage to any charge or cash withdrawal made. Be mindful of what fees your bank has and be sure to ask if there are other cards or products that you can switch to that minimize these fees. Many travel credit cards do not have international fees.
 
Go Off the Beaten Path
To save on your honeymoon you might want to avoid going to locations that lots of other people are visiting. For example, central Europe is notoriously busy and expensive during the summer, so planning a trip there in the off-season might help you to save a lot of money. You could also head to Europe but visit less busy places like Slovenia or Croatia.
 
Leverage Your Registry
When planning your registry, you may want to have your friends and family contribute to your honeymoon instead of housewares and other common registry items. Registries became a hallmark of wedding ceremonies back when couples were not typically living together before marriage. These registries helped them to start their lives together without the additional expense of having to furnish a home.
Now, there are online registries that help people chip into your honeymoon expenses. There are plenty of cash registry websites such as Honeyfund, and several travel agencies can also help you set up a honeymoon fund.
 
Ask for Other Help
If you aren't sure how to plan a vacation on a budget, ask around. You may want to make a Facebook post asking for helpful suggestions on where to go on a budget, or for a great travel agent to work with. You never know what resources your friends and family have that can point you in the direction of a budget-friendly honeymoon.
 
Visit Inexpensive Destinations
Visiting inexpensive destinations doesn't have to mean cheap or dirty. It might just mean visiting somewhere you haven't heard of yet. For example, Rome is a popular destination for couples. However, there are plenty of beautiful, fun places in the Italian countryside that are much more budget-friendly and still luxurious.
Another way to make a destination less expensive is to consider alternative airports or airlines. An example of this is in Europe, many budget airlines have proprietary airports just outside of major cities. Lufthansa is a Star Alliance founder and headquartered out of Cologne, Germany, but their hub is in Frankfurt. Therefore, a lot of people book flights to central Europe into Frankfurt. However, there is a second airport near Frankfurt called Frankfurt Hahn. It only serves budget airlines and advertises a lot less than its larger counterpart, but flights are typically significantly cheaper when flying into Hahn. These are especially helpful when flying within Europe.
A similar example in the United States is Dallas Fort Worth Airport. It is a large airport that serves many major carriers, but Dallas Love Field is Southwest's headquarters and offers many less expensive flights.
 
Consider All-Inclusive
Shelling out for the all-inclusive resort might seem counter-intuitive when planning a honeymoon on a budget, but a lot of the time it can save you money. For example, if you were to go on a cruise for your honeymoon, there is a good chance that there is a base price for the cruise, then you'd have to pay for any food, alcohol, excursions in port, and more.
If you know that you will want to try lots of foods, activities, and different drinks, an all-inclusive pass might be a good move. This goes for both cruises and resorts. You might want to do some basic math or contact the resort, cruise line, or travel agent to evaluate which option is right for you. There are no surprise expenses with all-inclusive hotels and cruises, so you can enjoy your vacation without worrying that you are racking up a tab.
 
Don't Wait Until the Last Minute
One of the biggest mistakes travelers can make is to wait until the last minute to book. This goes for booking travel, accommodation, and even tours on the ground. The most expensive mistake of the three is probably booking airfare. You should plan to book airfare at least six weeks in advance, but many experts will tell you to book about three months in advance.
Some websites specialize in last-minute bookings for accommodation, but it is likely wise to avoid those on a honeymoon if you want everything to go smoothly. Booking in advance guarantees that you can shop around for the best room prices and locations and will have the peace of mind of knowing where you will spend your vacation.
 
Travel Hack
You are likely taking on a lot of expenses around your wedding. This might be a good opportunity to take out a credit card that has cash back rewards or accrues travel points. Only use this option if you can pay off your credit card expenses right away.
Travel hacking works when someone takes out a credit card that has a sign-up bonus. These bonuses will often equate to several hundred dollars of free flights or hotels permitting that the user spends a specified amount in the first few months of having the card. They also often come with lounge passes, free checked bags, or free upgrades. These perks can be a nice way to elevate your traveling experience during your honeymoon.
If you choose to travel hack, be sure to pay off your card right away to avoid paying interest. There is no sense in getting a free flight if you take a credit score hit or end up paying a bunch of interest charges.
 
Take a Mini-moon Now and a Honeymoon Later
If a budget honeymoon simply isn't in the cards for you right now, you may want to save your money and do a large vacation down the road. Instead, you can take a mini-moon now. This might be a simple weekend away or a road trip within your state. Perhaps a "mini moon" will be the first budget-friendly decision you will make as a married couple. Speaking of financial decisions here is a post we have on some financial moves you will want to make right after getting married.
 
The Bottom Line
It can be exciting to plan your first trip as a married couple. When planning, be sure to be diligent about where you can cut or eliminate expenses. Ultimately, the trip serves as an opportunity to get away after all the hustle and bustle of planning a wedding, so be sure to choose a place that you will enjoy together.
---
---